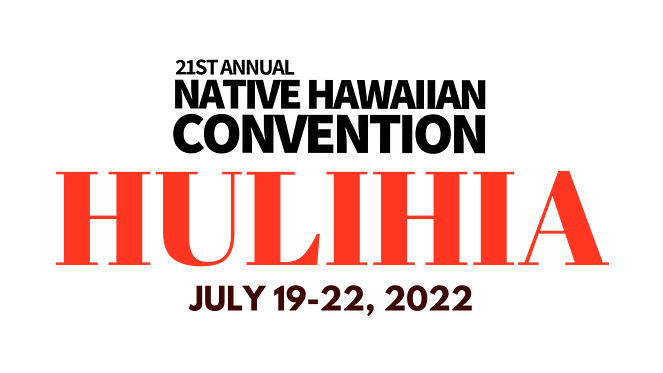 The Council for Native Hawaiian Advancement (CNHA) is excited to announce its 21st Annual Native Hawaiian Convention will be held at the Sheraton Waikīkī, July 19 to July 22. This convening brings together Native Hawaiian and Pacific Island cultural practitioners, educators, healthcare and housing providers, business leaders, kupuna and future leaders from our next generation. It is the largest and most consequential convening on issues of importance to Native Hawaiians and Pacific Islanders in Hawai'i. We anticipate more than 1,600 individuals and organizations combined to attend this year's event, which will be the first Native Hawaiian Convention held in person in two years.
​
In response to the unprecedented challenges our community faced during the pandemic, it is time we now focus on our future. The theme of this year's convention is "Hulihia," which refers to change. Together, we will face our challenges head on and focus on how this change will positively shape our future.
Our partners' continued support for our annual convention has allowed CNHA to grow as an organization and expand our services to kōkua our community. Over the last few years, CNHA launched major initiatives like the Pop-Up Mākeke which has sold over 250,000 Hawaiʻi based products, and put millions into the pockets of our small artisans and businesses. Our emergency assistance programs have pumped over $100 million into our economy to help families find stability in the midst of uncertainty. The annual Native Hawaiian Convention allows us to hear from our community, and identify solutions that can uplift not just Native Hawaiians but all of Hawaiʻi.
​
We kindly ask for your consideration and support for this year's convention.
​
Please click on our sponsorship packages below to purchase through our online portal.