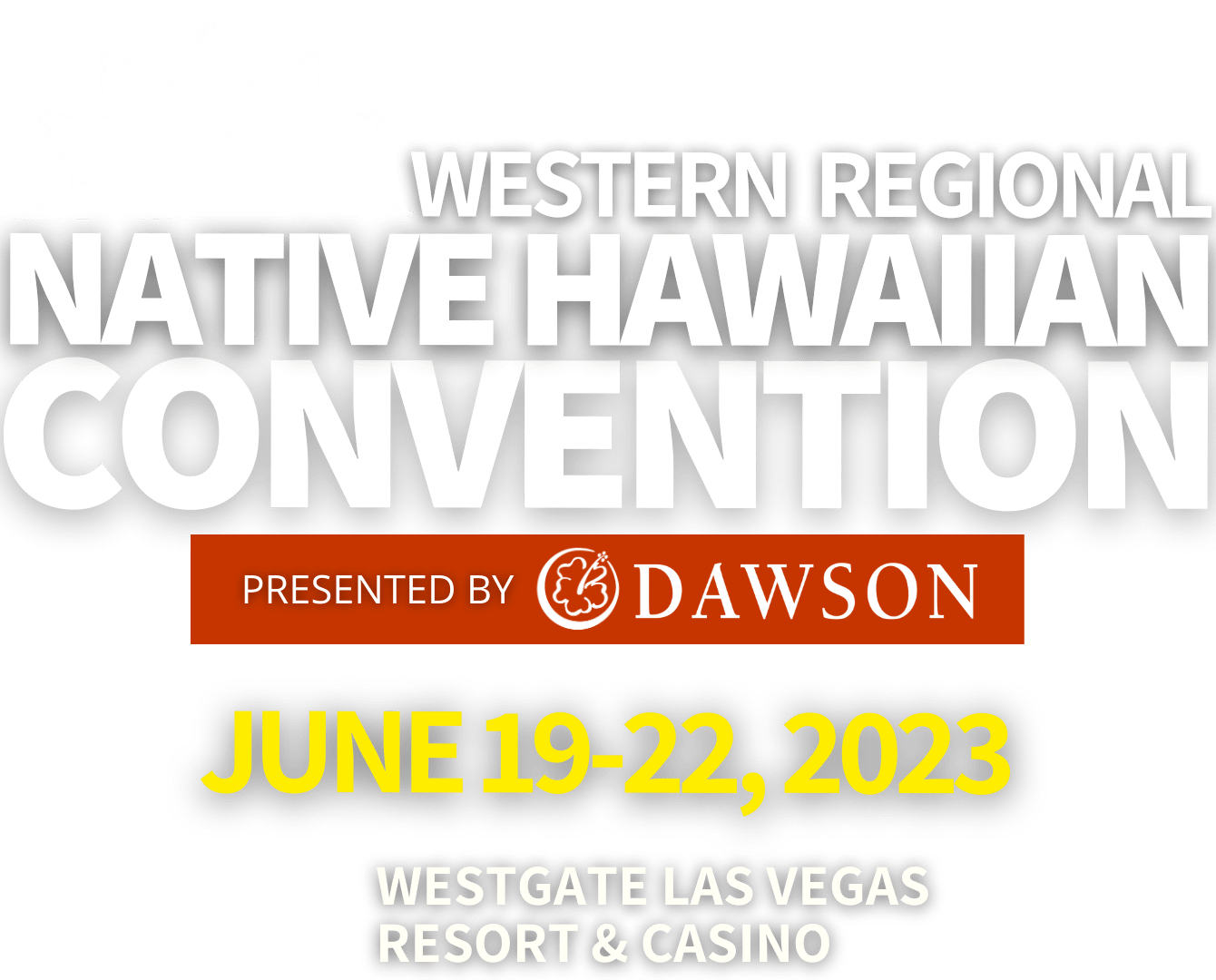 Registration is now open for CNHA's first Native Hawaiian Convention on the continent, June 19-22, 2023, in Las Vegas. The inaugural Western Regional Native Hawaiian Convention will be held at the Westgate Las Vegas Resort and Casino and feature discussions on cultural perpetuation, housing and tourism.
For two decades, the Native Hawaiian Convention has served as the largest gathering of Native Hawaiians to discuss issues facing our community. It's only fitting that we take convention to the continental United States now that the amount of Native Hawaiians living there has surpassed the number residing in our ancestral homeland. This convention will serve as an opportunity to re-connect with our 'ohana who have left the islands; share our stories, successes and struggles; and chart a course forward towards our common goals for our community.
The convention will bring Native Hawaiian practitioners, educators, entrepreneurs, healthcare and housing providers, elders, artisans, entertainers and the youth together in Las Vegas, the city with the third highest Native Hawaiian population in the country.
Step 1
View the agenda for details on workshops, discussions and events at this yearʻs convention
Step 2
Get your 4-day ticket
$350
$300 for CNHA Members
Step 3
Book your hotel room at the Westgate Las Vegas Resort & Casino, convention rates below
Step 4
Get your tickets for evening events, including Josh Tatofi Live in Las Vegas.
Calling All ʻŌpio!
ALL YOUTH PARTICIPANTS ATTENDING THE ʻAHA ʻŌPIO STRAND OF THE CONVENTION RECEIVE A REGISTRATION WAIVER
CNHA welcomes ʻōpio (youth from ages 12-26) to participate in the ʻAha ʻŌpio at this yearʻs Native Hawaiian Convention in Las Vegas June 19-22.  The ʻōpio will have a full-day pre-convention forum on June 19 and daily debrief discussion groups on the 20th and 21st.  This is an opportunity for our youth that live in Hawaiʻi and our youth that live on the continental U.S. to launa (spend time together) and build their networks all while discussing important topics.  The goal is to empower our youth to find their voice, grow their skills in understanding Native Hawaiian community both in Hawaiʻi and away from Hawaiʻi, and foster meaningful relationships.
The ʻōpio will spend all day Monday together.  On Tuesday, Wednesday and Thursday, the ʻōpio will attend the convention alongside the makua and kupuna (adults and elders) and in the late afternoon, they will gather and have a chance to lead and participate in discussions of the topics that they heard throughout the day.  In the evenings, there will be activities TBD.
 The best part, the convention registration fee is waived for all those that register for the ʻAha ʻŌpio beginning April 15th.
Please DO NOT register on the normal convention registration link above.  On April 15, there will be a link on the convention website specifically for ʻAha ʻŌpio.  All minors under the age of 18 will need to complete a waiver signed by their legal guardian. 
All parents, chaperones, adults, please register on the regular convention link for yourselves as the ʻAha ʻōpio link will only be for those ages 12-26.
What is Early Bird pricing and how long is it available?
Early Bird rates offer $50 off normal ticket pricing and are available through April 15, 2023.
What do the different ticketing prices mean?
CNHA members enjoy numerous benefits, including discounted tickets to conventions. For just $250 – a full fifty dollars below general admission prices – CNHA members can experience the best of what our convention has to offer!
Interested in becoming a member? Click here for more details and join today!
Will this be the only Native Hawaiian Convention in 2023?
No! CNHA will be hosting our 22nd Annual Native Hawaiian Convention later this year on Oʻahu.