The Kākoʻo Maui Fund is providing resources that can be deployed quickly and efficiently

to our Hawaiian communities impacted by the Maui wildfires.
The Kāko'o Maui Fund is a donation campaign to aid communities impacted by the Maui wildfires. CNHA is seeking support from corporate, philanthropic, and organizational matching funders to incentivize small dollar donations and to support our communities. Donations received will go to Maui-based relief efforts, with focus on Native Hawaiian organizations, small businesses, 'ohana, and cultural groups.
Support provided to:
Kanaka Climbers – $25,000
To ensure seamless communication and connectivity for residents living in Lahaina, particularly the Leali'i Hawaiian Homestead community and the neighboring areas, including a resource hub, during the period of service disruption. Includes the operation and monthly subscription of Starlink internet service until regular service is restored. A dedicated worker will also be allocated to support the operations of a resource hub.
Pūnana Leo O Lāhainā – $50,000
The Pūnana Leo O Lāhainā campus was lost in the raging Maui fire.  Resources will be used to secure a temporary campus to allow instruction to continue.  Funding will also be used to support staff and other general needs.
Legal Aid Society of Hawaiʻi – $100,000
Resources will be used to add staffing to provide legal counseling for Maui families needing to apply for federal, state, and county assistance, and other needs, including but not limited to insurance claims.
Hawaiian Community Lending – $100,000
Dedicated to offering vital comprehensive assistance to marginalized communities on Maui, with a special focus on Native Hawaiian households. Their mission involves aiding in the application process for diverse support initiatives such as FEMA, State, County, and private funding. Collaborating with Hawaiian Community Assets, their team will be stationed at cultural centers in Lahaina and Kahului.
Native Hawaiian Legal Corporation – $100,000
Provides Native Hawaiian families and communities with legal advocates to navigate legal challenges in which Native Hawaiian rights are at stake. Their work contributes to the protection and preservation of Native Hawaiian culture, identity, health, and well-being.
Makana O Ke Akua – $125,000
To facilitate the effective management of both essential supplies and dedicated volunteers at the storage facility, which is playing a crucial role in supporting the Maui recovery effort over a span of six months.  MOKA will provide coordination support between state, county and donation centers.
Phase One
Focus on support for fighting fires, saving lives, and providing supplies
Phase Two
Focus on sheltering families and provide technical assistance and support
Phase Three
Focus on stability through financial assistance
Phase Four
Rebuilding Lahaina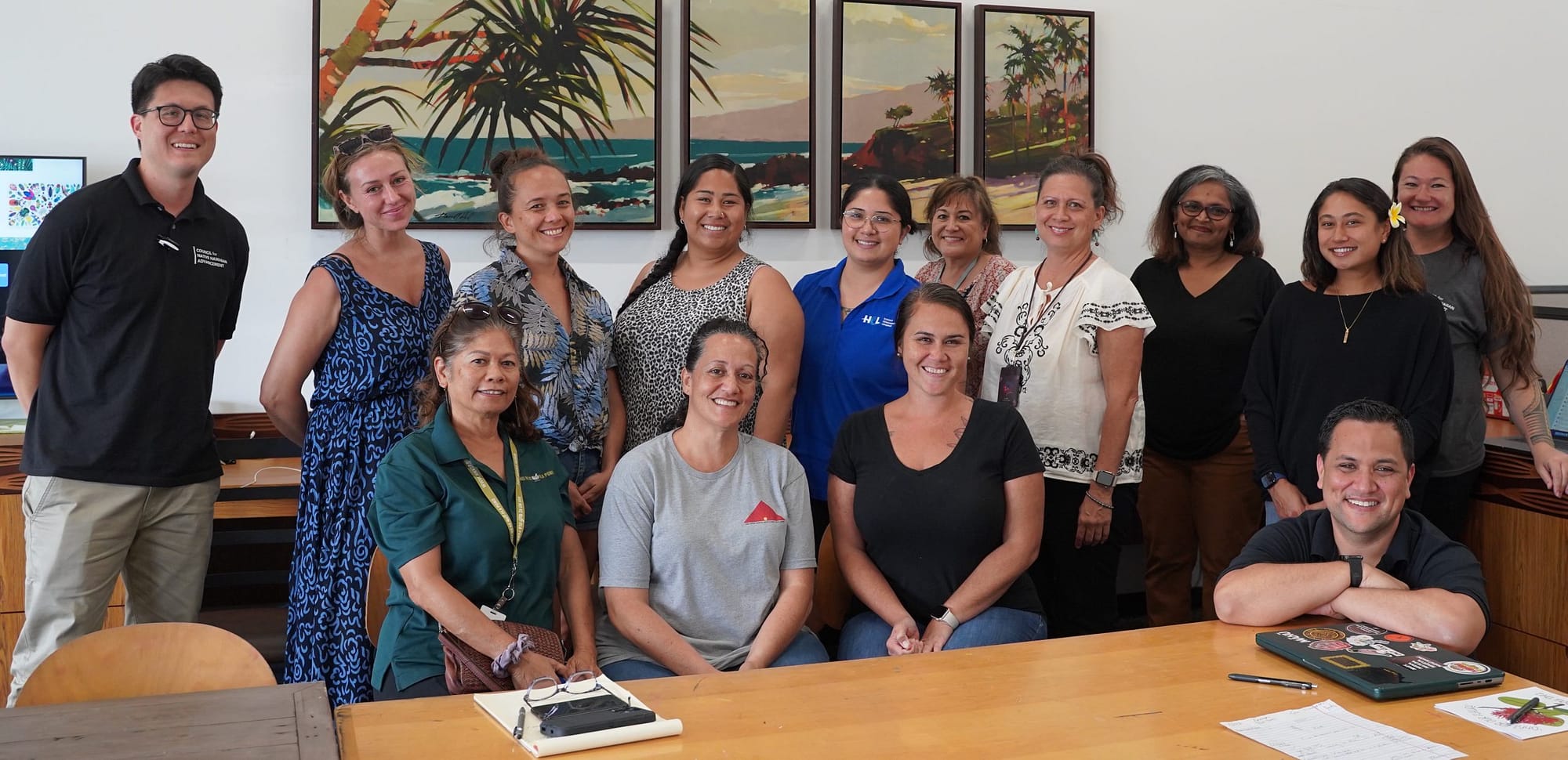 Visit our Resource Center in Kahului

Our doors are open at the Kākoʻo Maui Relief & Aid Services Center, at Maui Mall daily from 10am to 6pm.
This resource hub will provide a collaborative and cultural approach to help those impacted by the wildfires access direct aid and services.
Service Providers at the Resource Center
The hub will host both non-profit service providers and representatives from various agencies, on a rotating basis, including:
Imua Family Services – Healthcare navigators from Imua Family Services help eligible residents in Maui County apply for and enroll in health and medical coverage. They provide assistance with Med-QUEST and the Federal Health Insurance Marketplace, as well as navigating qualifications for subsidies such as Premium Tax Credits and Cost Share Reductions.
Hawai'i Community Lending – Hawai'i Community Lending's long-term goal is to assist those impacted on Maui to rebuild their homes by preventing foreclosure and securing land access, providing financial aid for disaster victims, administering the Kanaka Anti-Displacement fund to protect Native Hawaiians, and by providing a dedicated team working to make rebuilding easier.
Hawaiian Community Assets – Hawaiian Community Assets and Hawai'i Community Lending (HCL) has launched a two-phase Maui Response and Recovery Strategy to increase public awareness and access to homeowner insurance, disaster assistance, and grants and loans for recovery and rebuilding.
Native Hawaiian Legal Corporation – NHLC provides legal services to empower Native Hawaiians families, cultural practitioners, and communities as they defend and assert their legal rights in Native Hawaiian law.
Legal Aid Society of Hawai'i – Public interest, non-profit law firm dedicated to achieving fairness and justice through legal advocacy, outreach, and education for those in need.
Papa Ola Lōkahi – 501(c)(3) that embodies a holistic approach that brings together mind, body and spirit in the pursuit of optimum health and well-being for Native Hawaiians.
Hui No Ke Ola Pono, Inc – is a private, not-for-profit community-based health enhancement, disease prevention and health care center. HNKOP provides programs on nutrition, health management and health care referrals for the community of Maui in a culturally caring manner.
Maui Rapid Response – MRR is an ahupuaʻa based disaster response team made up of individuals from the Maui community and a number of nonprofit and direct-aid organizations. Founded in 2020 in response to the Covid-19 shut down, Maui Rapid Response is a decentralized citizen collective driven entirely by community values and needs, with a commitment to prioritizing support for native Hawaiians and vulnerable members of our local community. 
Catholic Charities of Hawaii –  is actively working with other organizations to assess and meet the critical needs of individuals affected by the wildfires. This includes finding temporary housing, financial assistance, everyday essential needs, help in rebuilding homes and counseling services.
Mental Health Kokua – assists people with mental health and related challenges, to achieve optimum recovery and functioning in the community. We know how important it is for people to have confidence in their health care provider.
Maui Behavioral Health Resources – MBHR has the full range of mental and emotional well-being – from the basics of how one copes with day-to-day challenges of life, including family relationships, to the treatment of mental illnesses, such as depression or personality disorder, as well as substance use disorder and other addictive behaviors. 
Maui AIDS Foundation –  MAF is a nonprofit 501(c)(3) health and social service organization always striving to meet the needs of the Maui County community. MAF offers health insurance enrollment assistance.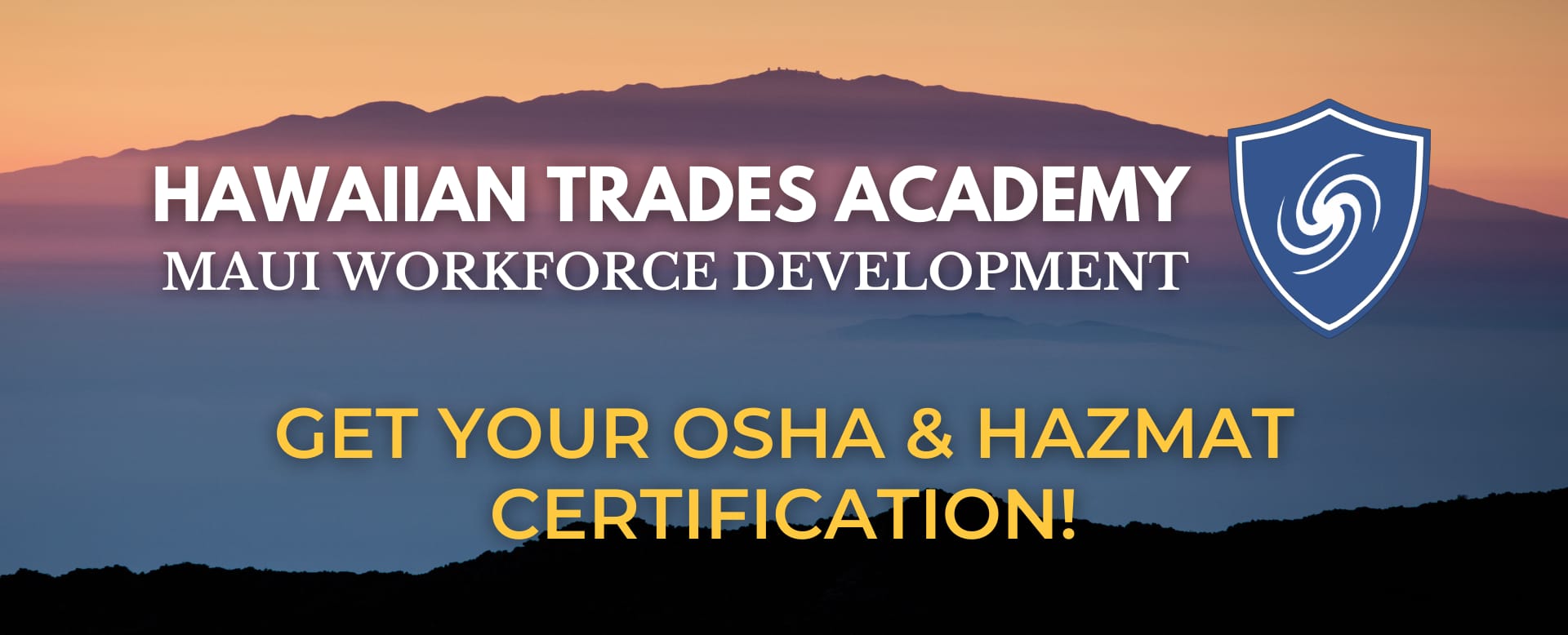 Free OSHA, HAZMAT and HAZWOPER Certification Classes for Maui Residents
CNHA's Hawaiian Trades Academy will be offering free workforce certification classes in OSHA, HAZMAT, and HAZWOPER for Maui residents interested in clean-up and rebuild-related jobs, and they will be working with local companies on job placement. Additional courses in CDL and construction will also be offered. If you are interested in getting your certifications or training, fill out the sign-up form linked at the button below.
In response to community concerns about keeping jobs in Hawai'i for local businesses and workers, the Council for Native Hawaiian Advancement (CNHA) has pivoted its Hawaiian Trades ...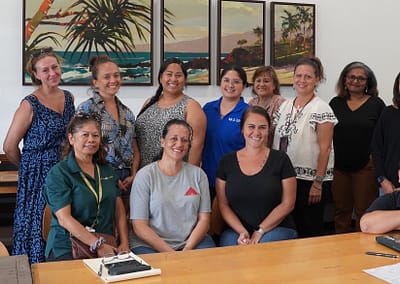 By KHON2 News - A new resource center on Maui aims to provide a safe haven for wildfire affected residents who are frustrated by the government's response. It's been almost four weeks since the wildfires and getting access to resources has been frustrating for many who have been impacted. Even though numerous organizations have come forward to assist people, many locals feel there's been a disconnect. CNHA has stepped in to create a culturally focused hub for everyone to get the resources they need.
Subscribe to our Newsletter!