KS and community partners award $135,000 in prize money to six local farms and businesses in a contest focused on strengthening Hawai'i's food systems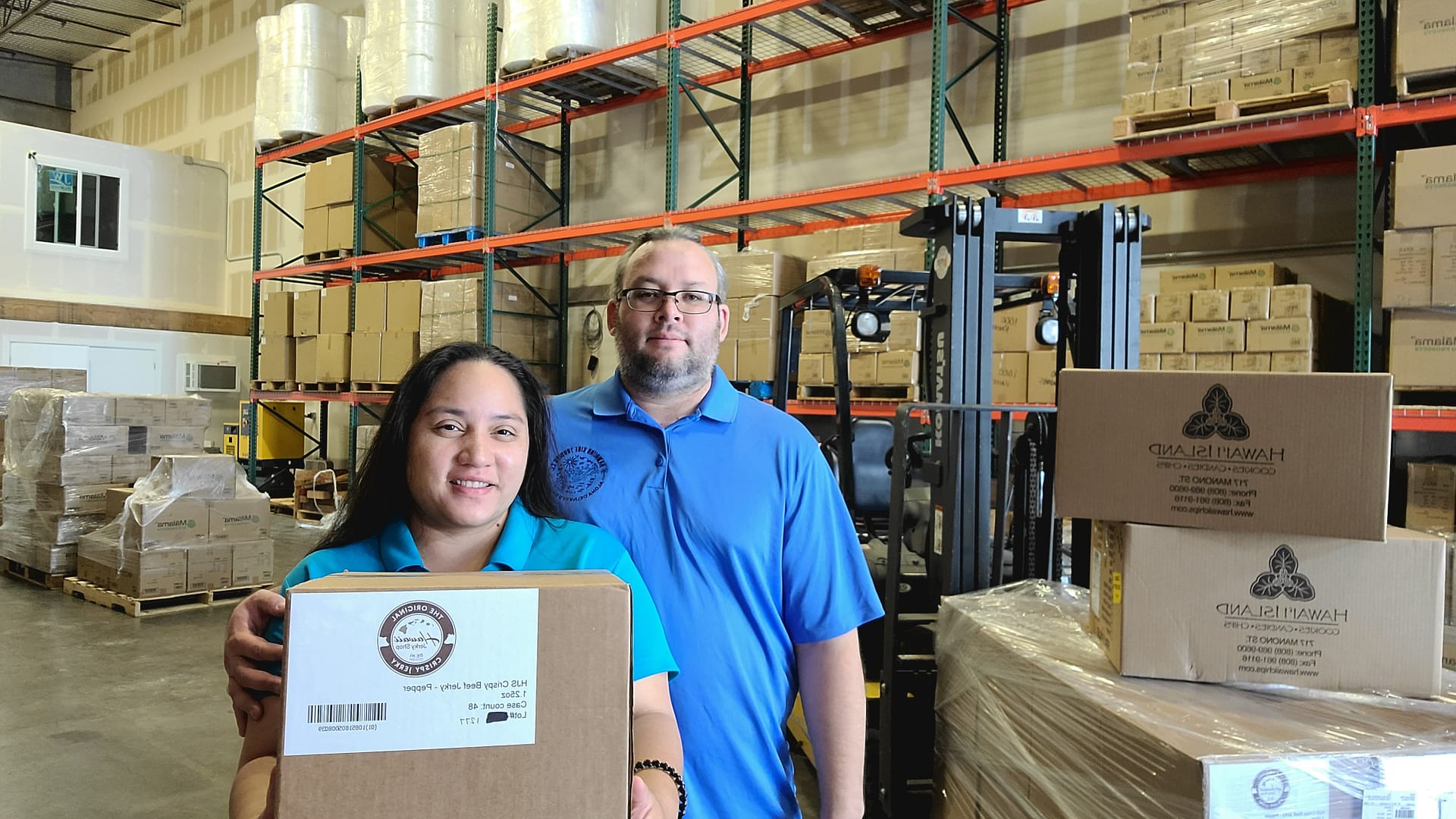 Hawaiian Kine Trading Co. is the winner of the 2021 Mahi'ai Scale-up business plan competition, which helps established local farms and food system organizations grow their businesses.
Hawaiian Kine Trading Co. will receive a $45,000 cash prize as well as business coaching and services from The Kohala Center. In its seventh year, this competition is a part of KS' Mahi'ai a Ola program that aims to strengthen Hawai'i's agriculture industry and food systems for future generations.
Dallas Stewart and her husband, Sean, founded Hawaiian Kine Trading Co. in 2018. With experience in retail, the Stewarts created their boutique distribution company to share Hawaiian culture with the world by placing Hawai'i-inspired snacks and goods on shelves worldwide. From developing a recipe to perfecting a product and transporting it to market, Hawaiian Kine Trading Co. supports its Hawai'i-grown small business partners every step of the way.
"My company really doesn't exist at the forefront," Dallas Stewart, a 2004 KS Kapālama graduate, said. "We really are standing behind and uplifting others. We work with farmers and other value-added processors. So, as we rise, we hope to bring them up with us. In the end, it's those connections, those human connections – that's the important part. A journey like this is very reflective."
Second place, with a prize of $35,000, went to Ahiki Acres, a small farm in Waimānalo, O'ahu, which took root in the winter of 2018 under the guidance of GoFarm Hawai'i's AgPro program. Through Ahiki Acres, co-owner Haley Miyaoka strives to improve O'ahu's food security by connecting food-conscious people with local, organic produce to support sustainable eating and the local food system while practicing responsible stewardship of 'āina.
"The winnings from this competition will help to accelerate my business plans to expand production and effectively work towards my long-term goals of bridging commerce, culture and community," Miyaoka said.
Kū-A-Kanaka, a family-owned Native Hawaiian social enterprise working to revitalize Kapapa Loʻi o Kealiʻikuaʻāina in Waipiʻo Valley on Hawai'i Island, rounded out the top three, winning $25,000.
"The Mahi'ai Scale-up prize will enable our farm to build the necessary infrastructure to cultivate kalo and make our five-acre taro patch self-sustaining," said Krisha Zane, Kū-A-Kanaka project developer.
The other Mahi'ai Scale-up finalists, who will each receive $10,000 to scale up their businesses, were:
O'ahu Food Hub, a food-safe certified facility that provides storage, processing and distribution support at an affordable cost to 40-50 small- to mid-sized local food businesses.
Hanohano Huliāmahi, a fourth-generation family farm that works to restore 'āina kupuna in Pāpaʻakoko, which is located between Hau'ula and Punalu'u, on O'ahu.
Punahele Provisions, which produces Hawai'i-made, all-natural baby food products with no additives, preservatives or artificial flavors.
Kamehameha Schools acknowledges the generosity of the partners and sponsors who supported this year's competition by either helping to contribute toward the prize money or the wraparound business education services. These organizations include Council for Native Hawaiian Advancement, The Kohala Center, Ulupono Initiative, Pauahi Foundation, Turtle Bay Resort, Sensei Ag, Natural Investments, Mahi Pono and GoFarm Hawai'i.
Participants' business plans and final pitches were reviewed by a panel of judges that included:
Pia Chock, Kamehameha Schools Food Systems Investment Fund portfolio manager.
Kūhio Lewis, Council for Native Hawaiian Advancement president and CEO.
Jesse Cooke, Ulupono Initiative vice president of Investments & Analytics.
Michael Robinson, Hawaiʻi Pacific Health vice president of Government Relations & Community Affairs.
"Congratulations to Hawaiian Kine Trading Co. and all the finalists for making an immeasurable difference in growing, producing, gathering and distributing locally sourced food products that help our communities and our economy become more resilient," said Kā'eo Duarte, KS vice president of Community & 'Āina Resiliency. "Through Mahi'ai Scale-up and together with our partners and the community, Kamehameha Schools is working to help strengthen Hawai'i's food systems toward a sustainable future and a thriving lāhui."
Mahi'ai Scale-up invited established farmers, distributors, processors and aggregators to submit proposals that will expand their businesses in new and creative ways. A total of 24 businesses took part in the competition, which included classes from the Council for Native Hawaiian Advancement's Food Systems Edition of its KūHana Business Program, an accelerator and training course for Hawai'i businesses.
"The challenges that have come from the pandemic have made us stronger and have brought us closer," said Kūhiō Lewis, CNHA president and CEO. "These amazing businesses are a breathing example of the resilience that represent our community. Congratulations to our finalists and all those who participated.
in our Mahi'ai Scale-up competition. ʻAʻohe hana nui ke alu ʻia (No task is too big when done together by all)."
The Kohala Center will provide one-on-one business support to the competition winners and finalists.
"We congratulate the winners and everyone who entered Mahi'ai Scale-up; they are all heroes in our collective efforts to improve local food security, Hawai'i's agricultural economy, and the health of the 'āina itself," said Nicole Milne, vice president of Food and Agriculture Initiatives at The Kohala Center. "We look forward to working with the winners and other participants to help them strengthen their businesses."
"Strengthening and expanding local agriculture is especially important as Hawai'i sets out toward recovery from the COVID-19 pandemic, which highlighted our precarious dependence on importing 80- 90% of our food and the just-in-time delivery model," said Amy Hennessey, senior vice president of Communications and External Affairs of Ulupono Initiative, a Mahi'ai sponsor since the program's inception in 2013. "Through our support of the Mahi'ai Scale-up competition, we are partnering to identify and empower innovative and sustainable local farmers, and we continue to be impressed by participants' skill, creativity and passion for a more sustainable, resilient food system for Hawai'i."
Kamehameha Schools' Food Systems initiative aims to grow healthy and accessible food in Hawaiʻi to feed Hawaiʻi and the world. This work goes to the heart of our mission – Hānai i ke keiki, ola ka lāhui: Nurture the child and the lāhui thrives.
Mahi'ai a Ola began with the Mahi'ai Match-Up competition to increase agricultural awareness in support of the farming industry while reinvigorating innovation, community connections and a commitment to future generations. The Mahi'ai a Ola program has grown to include three main components – Mahi'ai Match-up and Scale- up (business plan competitions), Mahi'ai a Ao (education & scholarships) and MahiX (innovation challenge).
To learn more about Mahi'ai a Ola, visit www.ksbe.edu/mahiai.