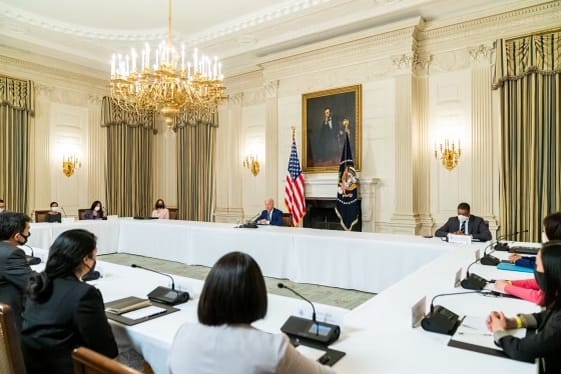 The Council for Native Hawaiian Advancement (CNHA) President and CEO Kūhiō Lewis met with President Joe Biden and Vice President Kamala Harris at the White House Thursday. He was one of 13 Asian American, Native Hawaiian, and Pacific Islander (AANHPI) leaders invited to Thursday's meeting which focused on a number of issues critical to the AANHPI communities including economic opportunity and commitment to equity. It provided a platform for these leaders and the needs of their communities to be heard.
"Native Hawaiians want to be seen, and we want to be heard. We have been an invisible people in the United States for too long," said Lewis. "We want the opportunity to be part of the solution. We want federal departments to work more directly with our intermediary Native Hawaiian organizations—utilizing funding and information—to advance our people and our community."
CNHA supports hundreds of Native Hawaiian organizations and businesses, focusing on housing, economic development, healthcare, and education to advance Native Hawaiians and to provide opportunities and solutions to our Hawaiʻi community. The COVID-19 pandemic made economic development even more essential to our well-being.
"For the first time in more than 2,000 years, more Native Hawaiians reside on the Continent than in their homeland of Hawaiʻi," said Lewis. "It is too expensive for our people to survive, let alone thrive, here financially, and that is not right."
During today's meeting, the President and Vice President reaffirmed their commitment and promise to work together to ensure that the needs of the Native Hawaiian and Pacific Islander and Asian American communities are recognized, uplifted, and met. President Biden shared an image from the meeting on his Twitter account.